In the homebrew world it can be difficult to learn on your own.  It's always great if you be part of a community of some sort so you can bounce ideas back and forth.
Homebrew clubs are a great outlet for just that.  What a homebrew club is essentially, is a group of homebrewers that meet up and you make beer together or try beer together or just have beer related activities… together. It's very common to have some dues for being part of a club because, well things aren't free in this world so there you go.  Depending on which club you go to, you'll have different groups of people.  Some are extremely, "Beer nerded", up and others are more like the, "Chillax", brewers.
One of the biggest benefits to joining a homebrew club though is feedback on your beer that is constructive from other homebrewers.  This is usually done by having some type of competition or just passing your beer around at meetings.
If you are just thinking about homebrewing and haven't gotten into it yet, homebrew clubs are a great place to go as well.  It's common for a homebrew club to let you sit into a meeting or two to get a feel for the group of  guys (and ladies) as well as the atmosphere.  Since brewing is what they do, it's also a great venue to ask to sit in a brew session and see how it all works if you've never brewed before or want to try something new like all-grain.
Here in Prince William near our shop there is a homebrew club called, DOH.  If you're interested, they are a good group of guys and they have a wide range of experience.  So if you are just starting out you'll have plenty to learn from these guys and they are used to, "Beginner Questions", and if you've been brewing for a while there is still room for you as well.  Like I said, wide range of experience.  They are a pretty new club only being around for year but have grown tremendously in that past year.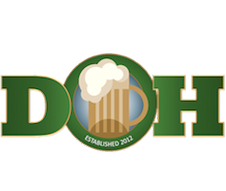 Homebrew clubs are a great way to further your knowledge in homebrewing and also hang out with some pretty cool cats that have the same hobby as you.  I can also think of more painful things to do during the week than shooting the breeze and tipping back some bottles of homebrew.  So if you are the area, make sure to check out their website and stop by a meeting!
Related Post
Why It May Be Time To Move Away From Kits